BPM EXPERTS' SPOTLIGHT
---
Cathy Segal-Garcia: The Jazz Vocalist & Teacher, Staple of The LA Jazz Scene
JAZZ SINGER, MUSICIAN AND TEACHER
---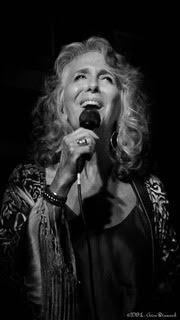 "MUSICIAN'S SINGER" CATHY SEGAL-GARCIA IS A VOCALIST OF "REAL MUSIC INTEGRITY", POIGNANTLY REPORTS CRITICAL JAZZ REVIEWER. WHEREVER SHE TRAVELS IN THE WORLD, AUDIENCES AND MUSICIANS ARE MOVED. SEGAL-GARCIA'S DEEP CONNECTION TO RHYTHM AND HER EARTHY AND ORGANIC VOICE BRING A NAKEDNESS TO HER COMMUNICATION, A DIRECT LINE INTO ONE'S HEART.
SEGAL-GARCIA HAS BEEN A TIRELESS SUPPORTER AND PRODUCER OF THE L.A. JAZZ SCENE FOR YEARS.
SHE HAS BEEN NAMED A "JAZZ LIVING LEGEND" IN L.A. RECORDING AND PERFORMING WITH JAZZ LEGENDS IS PART OF HER CAREER HERITAGE. SOME OF THE GREATS CATHY'S RECORDED WITH AND PLAYED WITH: TED GREENE, JOE DIRORIO, LARRY KOONSE AND MANY MORE.
SHE HAS 15 ALBUMS AS OF OCTOBER 2022. KNOWN THROUGHOUT THE WORLD FOR HER TEACHING AS WELL AS HER PERFORMING, SHE'S RECEIVED ACCOLADES FROM HER STUDENTS WHO HAVE HAD THEIR VOICES AND THEIR LIVES CHANGED. HER WORKSHOPS FOR VOCALISTS HAVE BEEN CONSISTENTLY PRODUCED SINCE 1998 AND HAVE INVOLVED SUCH LUMINARY GUEST CLINICIANS AS MARK MURPHY, CHERYL BENTYNE, BARBARA MORRISON AND SO MUCH MORE.
CATHY IS ESPECIALLY KNOWN IN JAPAN WHERE SHE HAS TOURED EVERY YEAR FOR OVER 25 YEARS, PERFORMING IN JAZZ CLUBS AND FESTIVALS THROUGHOUT THE COUNTRY, AND TEACHING WORKSHOPS AND PRIVATE STUDENTS.
Why is fostering a positive culture in the music industry important to you?
Artists are the reflections of society, and definitely balance the planet towards survival.
What's the story behind how you got to where you are today?
As far back as I can remember, I thought there was a deeper world than what was around me. Hidden, mysterious and wonderful. The door to something else, behind the nail in the wall.
My dad was a sax player, and he loved jazz, and I was his buddy, so he taught me about it. He took me to big band rehearsals from the age of 4, and I helped him put his band book together on Sunday mornings after the Saturday gig. I sang with my twin sisters all the years after that.
After high school I went to Berklee College of Music. Even though I was a singer, they didn't have vocals at the time, so I played flute and studied arranging and composition. I was young but I soaked in the being-ness of a musician. There were milestones along the way.
But why I decided to keep singing, why I decided to sing jazz? From when I was child through college, that was a dramatic time in popular music. The Beatles, Chick Corea, Miles Davis, John Coltrane. The music was mind and soul altering.
I used my voice to make money, and to learn and have fun. I started writing, and found that my music writing was like my word writing. It usually reflected an intangible essence that I seemed to be reaching for. The way I expressed myself was in more ethereal concepts, rather than simple direct statements.
My mother and my sisters taught me about liking people and communicating. I taught myself about fearlessness. The ladies taught me about gathering people together. I taught myself about getting people into action. We were about giving help and love to our peeps.
When I started to teach, a large door opened up for me. I wanted to be truthful and kind, but get a result. I started experimenting with my own states of mind, and decided that one was responsible for one's own existence. Responsibility, for both the good and the bad, was challenging. But I came to the conclusion over the years that if I could confront anything and take responsibility for anything…then anything would be possible.
I am a "glass 1/2 full" type of person. But I also want to tell you honestly, you must confront the work and take responsibility for it. Most likely, since this is not only about the action of the body singing, you will find some personal, emotional issues rising up in your face. The bottom line is: can you confront something and take responsibility for it?
What's your day-to-day like?
Every day I'm either interviewing someone from 12-2 on my Facebook/Youtube show, Cathy Segal-Garcia's Noontime Hang, or posting archives from my 475 guests. I practice vocal technique, practice songs in my repertoire, look for gigs, teach voice students, check out music and spiritual videos, and go hear live jazz.
What's your favorite success story or moment when you knew you had to pursue a career in music?
I had a lot of great moments, but the thing that made me know I wanted to sing was when I was 4 years old, and went to a big band rehearsal with my dad. The musicians flirted with me, and I loved the music, and the comradery!
What's the biggest challenge you've had to overcome to be where you are today?
It's strength of several important things connected to commitment...to serve the music, to create with the other artists, use no judgement, be in the moment, be the best you can be, pay attention, practice, listen...
---
---
Talk To Us About Your Jazz Vocal Training Program! Who Is It For and What Goals Can It Help Singers Reach?
I teach jazz singing to all levels! I like to make it user-friendly…no matter what you're desiring. For instance, a beginner may know nothing of phrasing, tone, harmony, rhythm….
An amateur or semi-pro may have been singing, but needs more of an awareness of any one of those things, including scatting.
A pro may need an outside professional point of view they trust, to give them more fine-tuning in any of those areas.
What's the Best Accomplishment You Have Received While Teaching?
I personally love when I see a student get an "a-ha" moment! I have a very deep spiritual connection to music, and what I feel is important, is connected to that.
So when I can lead any singer to a personally realized awareness of music, jazz, and singing…this is an accomplishment for me, and a big satisfaction to me!
How do you want to be recognized or remembered as?
An alive person. Kind, giving. Knowledgeable, artistic. A moving singer, a good composer. Someone who wanted to create good things, in order to be passed on to others.
What are your top 3 favorite artists or musical influences and why?
Andy Bey. He's an incredibly musical artist, a great singer.
Sinne Eeg. She is what I admire most about a singer...musically knowledgeable, beautiful instrument, great phraser...in performance she's natural and funny between songs, and is totally aware of and respectful of the musicians with her.
Anthony Wilson. A guitarist of such beauty...his perspective of arrangements, harmony, melody, soloing....and a kind, spiritful person.
What's one piece of advice you could tell the readers that could impact their lives?
Truth feels good. Lies don't. If you can confront anything and take full responsibility for it...you will never suffer.
What's the best advice for people who want to contact you or approach other professionals in the industry?
Reach out somehow, get to know the person, and open yourself to becoming known to them. Always do it with joy for what you're doing.
---
LEARN MORE ON CATHY SEGAL-GARCIA & THE JAZZ VOCAL TRAINING PROGRAM