FAN NURTURE INSIDER
Fan Nurture Vs MailChimp Vs Active Campaign
COME AND EXPLORE ALL THE AMAZING FEATURES OF FAN NURTURE
TODAY'S TOPIC: EMAIL MARKETING SOFTWARE
---
Email marketing is one of the best tools a business, a creator, or an artist can adopt to actively engage with and update their trusted followers, or find new leads to offer your products to.
There are a lot of different email marketing software programs to choose from, but which one is the best for you?
And most of all, why would you need an email marketing software?
First and foremost, email marketing is a powerful communication tool. It allows you to reach a large audience quickly and easily, and keep them updated on your latest happenings or products.
Some of the most common customization options include:
- Tailor your email content based on the customer's interests or past interactions with you.
- Configure automated triggers that send out specific types of emails, like follow-ups after a customer has made a purchase or downloaded your latest EP!
- Adjust your email campaigns' frequency, timing, and targeting to best reach your target audience.
Email marketing software can also automate certain tasks for you. For example, some programs will automatically create and send newsletters, while others will manage email campaigns and send out automated messages based on specific triggers.
In short, email marketing is an essential tool for businesses and brands of all sizes & kinds.
To help you figure out what type of email marketing software is best for your needs, we've put together this article, where we'll cover what a email marketing software is, and analyze what Fan Nurture can offer you, compared to two other software: MailChimp and Active Campaign.
---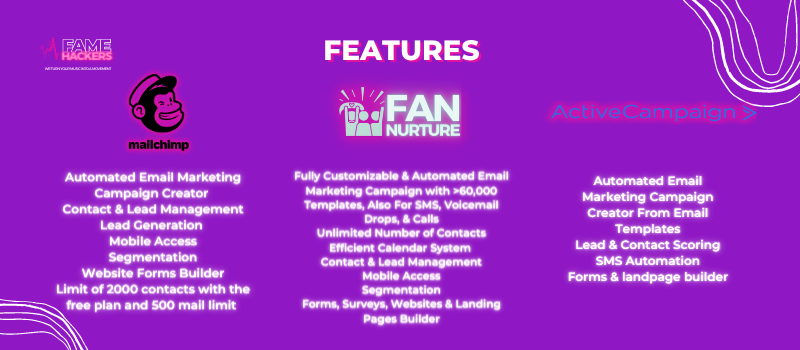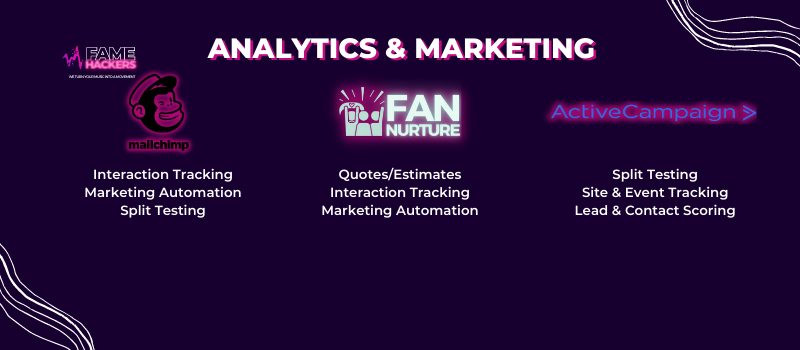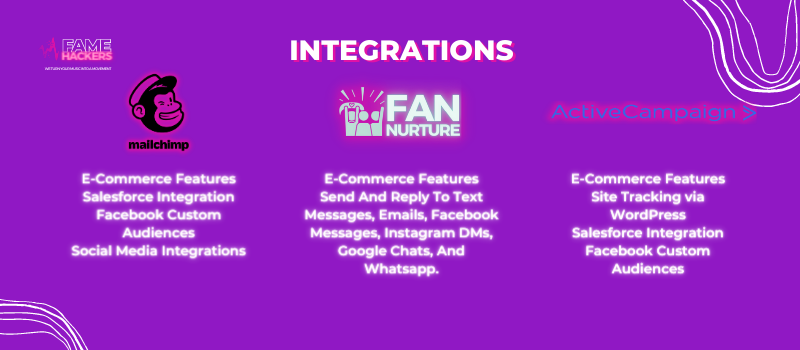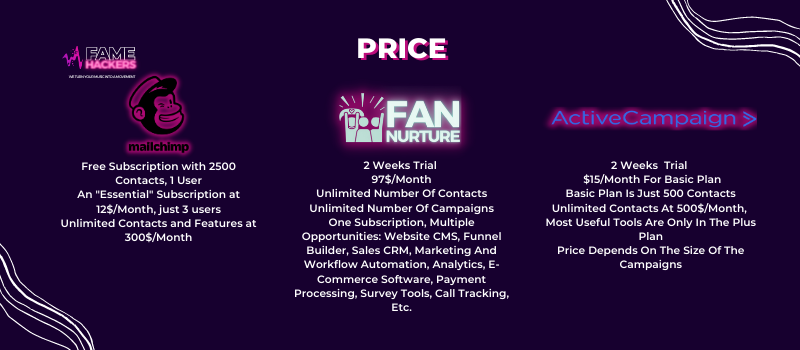 ---
Email marketing software come with a lot of features and customization options, so you can tailor your campaigns to closely match your business and brand's needs.
That's why it is important, no matter what software you choose, to know deeply your potential or official clients and fans, and tailor your email content based on their interests or past interactions, so it might be a good idea to test different campaigns, with even different software.
But it might be even better as a content creator or artist, to provide your business with reliable software that can offer you multiple tools and can let you save time, strength, and money, just like Fan Nurture does!