BPM ARTISTS' CORNER
---
Sarah Lightman In BPM Artists' Corner
Learn More On This Soulful Pop Singer-Songwriter From Nashville
---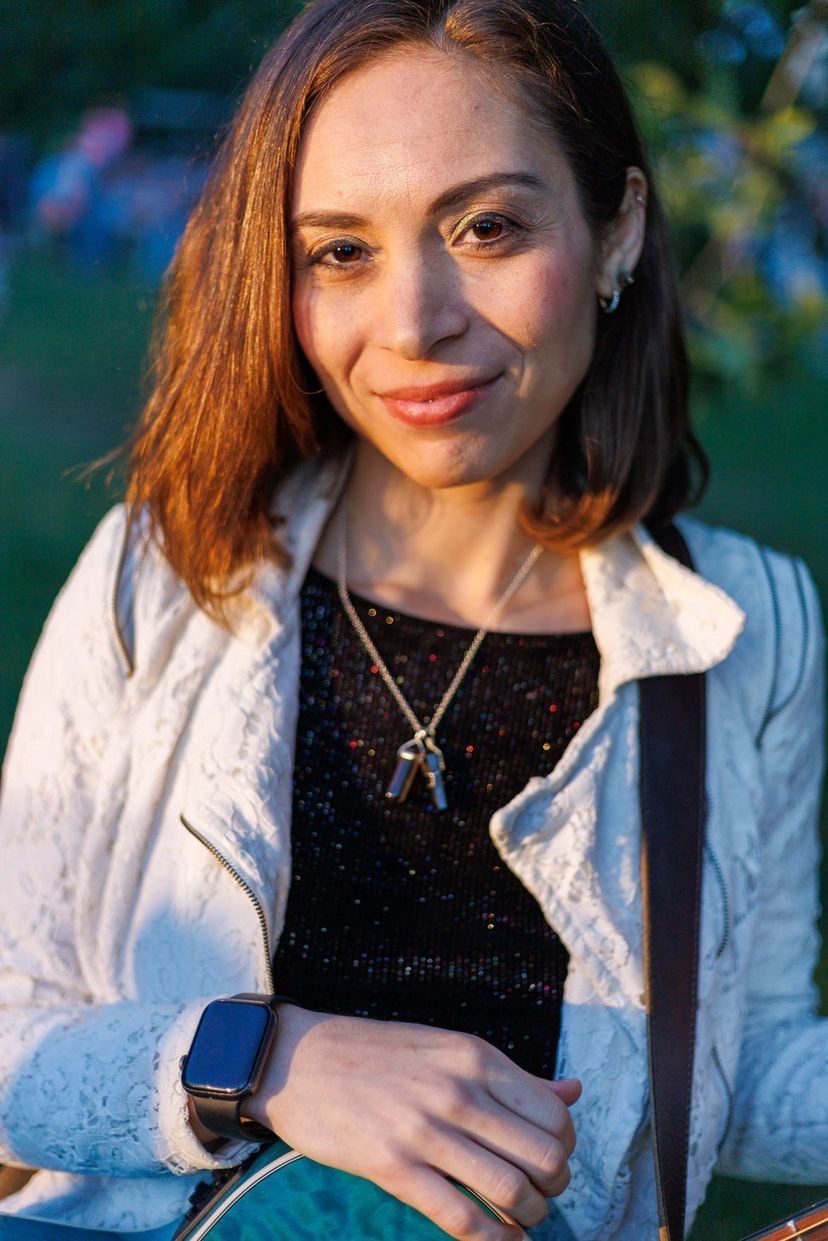 RECORDING ARTIST AND SINGER/SONGWRITER SARAH LIGHTMAN, NEWLY BASED IN NASHVILLE, TENNESSEE (ORIGINALLY FROM CENTRAL NEW JERSEY) MOVED FROM AN 8-YEAR LOS ANGELES RESIDENCY. SHE STARTED IN MUSIC AS A STREET PERFORMER IN DOWNTOWN BURBANK, CA, AND CLIMBED TO HAVING HER MUSIC VIDEO FEATURED ON THE JUMBOTRON AT UNIVERSAL CITYWALK, LOS ANGELES WHILE PERFORMING AT VARIOUS RESIDENCIES ALL OVER THE CITY AND TOURING ON THE EAST COAST - INCLUDING THE NAMM MAINSTAGE AND CITYWALK. SARAH IS ALSO SPONSORED BY LUNA GUITARS, CLEARTONE STRINGS, AND EMPIRE EARS. WHEN THE PANDEMIC STARTED AND IN-PERSON GIGS WERE PUT ON PAUSE, SHE WANTED TO KEEP CONNECTING WITH FANS THROUGH LIVE MUSIC ON TWITCH. HER MAIN FOCUS IS ADVOCATING FOR MENTAL HEALTH THROUGH THE MEDIUM OF HER ORIGINAL SONGS. BY SHARING THE ADVERSITY SHE HAS OVERCOME, THE RESILIENCE SHE HAS DEVELOPED, AND THE WISDOM SHE LEARNS, SHE HOPES TO HELP OTHERS KNOW THEY CAN FACE THEIR FEARS AND LIVE BEYOND THEIRS TOO. KNOWN FOR HER UNIQUELY SOULFUL VOICE AND SMOOTH, CLEAR TONE THAT CUTS LIKE A KNIFE, SHE AIMS TO PROVIDE A REFRESHING OUTLET FOR POP LISTENERS.
---
Why is fostering a positive culture in the music industry important to you?
We have enough misinformation and toxic examples of connection in pop culture, the media, and in communities. Fostering a positive culture helps educate and offer more than just those options to the masses.
What's the story behind how you got to where you are today?
After I overcame some deeply challenging life experiences and shared the things I learned with strangers through music, their reaction gave me all I needed to know that being an artist is my true purpose, and I've let nothing stop me from getting in the way of that and who I am in this life.
What's your day-to-day like?
I get up, wash and moisturize my face, and I like to run or go to Yoga in the AM. It helps set the tone for my mind and helps my body feel great and sustained throughout the day.
Physical routines, books that nourish the mind and soul, and calendars are my bible for success and living my best life. I'm not a planner, but fostering these healthy habits, and taking care of my whole self has allowed me to be the best I can be to myself and others. This is especially important when I work in an ever-evolving up-and-down, unpredictable, and sometimes super-random industry.
I stream on Twitch a few times a week, do that social media posting, and practice voice 30ish minutes daily when I'm not performing. Things change often so this isn't my every day to a T, and I am also working on fostering a nourishing social life. It's a general picture I'd say!
What's your favorite success story or moment when you knew you had to pursue a career in music?
Anytime I can change someone's life or influence positive change and I get to see it in real-time with my performance or song, the connection shared is what gave me that inspiration and continues to validate my path of choice.
What's the biggest challenge you've had to overcome to be where you are today?
I've had many! Overcoming vocal surgery, while recovering from C-PTSD and during a pandemic. There was a lot of just loss then, even more than that, but I made it through the other side.
How do you want to be recognized or remembered as?
I'd like to be remembered as someone who was a kick-ass human who helped leave the world a little better than before. I hope to inspire others and make deep impacts so they can be remembered as kick as humans too!
What are your top 3 favorite artists or musical influences and why?
So many...My dad: Aaron Lightman; my first positive musical inspiration, and currently too I've been inspired by him in the last few years.
Andy Grammer: I love how he spreads joy through various songwriting topics, and Megan Trainor recently helped me tap into a new level of female confidence and power.
What's one piece of advice you could tell the readers that could impact their lives?
You are worth the work from yourself to live your best life, and even when you get scared or want to give up, keep going.
What's the best advice for people who want to contact you or approach other professionals in the industry?
Always email their management first if they have one. If they don't have a team yet, email them directly. Unless directed otherwise, email is best.
Keep it honest, respectful, and to the point. Don't make it about you, and start with something kind to say for the sake of being kind. Send a link to your website, and always follow through within a reasonable time if they are interested.
Patience, persistence, consistency, and politeness will take you far in life.
---
---
LISTEN TO SARAH LIGHTMAN ON SPOTIFY
LISTEN TO SARAH LIGHTMAN ON APPLE MUSIC
LISTEN TO SARAH LIGHTMAN ON AMAZON MUSIC
LISTEN TO SARAH LIGHTMAN ON BANDCAMP
LISTEN TO SARAH LIGHTMAN ON YOUTUBE
---
FOLLOW SARAH LIGHTMAN ON INSTAGRAM
FOLLOW SARAH LIGHTMAN ON FACEBOOK
FOLLOW SARAH LIGHTMAN ON TWITTER
FOLLOW SARAH LIGHTMAN ON TIK TOK
---