FAME HACKER OF THE MONTH
---
Shonti Elder, The Unstoppable Alaskan Fiddler
Come & Know The Fame Hacker Of The Month
---
I'M AN ALASKAN DANCE FIDDLER AND SONGWRITER PLAYING MY MUSIC TO LIFT YOUR SPIRITS; SWEET AND THOUGHTFUL SONGS RANGING FROM SILLY TO SAD, CELTIC TO SWING, EXPRESSING OUR SHARED EXPERIENCE. A VOICE THAT SMILES. I LOVE TO PLAY MUSIC THAT INSPIRES PEOPLE, OR MAKES THEM DANCE. I'VE RECORDED THREE ALBUMS OF ORIGINAL SONGS AND TUNES, AND PLAY ON MANY OTHER RECORDINGS. EACH WEEK, I PRODUCE A RADIO PROGRAM, TRAVELING MUSIC, THAT FEATURES ACOUSTIC MUSIC OF ALL FLAVORS., HEARD ON KSKA PUBLIC RADIO OR ON MY WEBSITE WWW.SHONTIELDER.COM. MUSIC HAS LED ME TO ADVENTURES TOURING THE STATE, AND BEYOND, RAFTING THE GRAND CANYON WITH FELLOW MUSICIANS, PLAYING AT A FIDDLE CAMP ON THE ISLE OF SKYE, SCOTLAND, AND HELPING INMATES TO WRITE LULLABIES FOR THEIR CHILDREN. I LOVE TEACHING CHILDREN OF ALL AGES AT MUSIC CAMPS YEAR AFTER YEAR
Why is fostering a positive culture in the music industry important to you?
It's important to bring out the joy of playing music together in children and adults, with positivity. I've taught private fiddle lessons and for twenty-one years I taught beginning orchestra and choir to middle schoolers in Anchorage. My three rules in the classroom began with "be kind". I wanted to be the teacher who students looked forward to being with. My goal has always been to foster joy in learning and performing together. Each step of progress becomes something I can't do "yet" but will overcome the struggles.
What's the story behind how you got to where you are today?
I come from a musical family who loved many styles of music. Beginning classical violin at twelve, some told me that I'd never really play be able to play well because I started so late. I proved them wrong. In college, a very critical violin teacher made me feel like quitting, but since I loved playing the violin, I just quit lessons instead. My musical community has been with friends who were drawn to folk music. Over the years I evolved from being a bluegrass fiddler to playing more Celtic music, and other styles. Early on, I started going to jam sessions to learn more music. I hovered in the background, and played quietly until I was confident enough to join in. With some of those jam session friends, I came to Alaska for a vacation, and never moved back!
What's your day-to-day like?
Each week I produce Traveling Music for public radio and my website. I'm also involved in a variety of performances with other musicians for good causes. During the holiday season I love playing classical music with the Messiah by Handel. Each month I coordinate a jam session at a local retirement community. I also give several fiddle lessons weekly, from complete beginners to fairly advanced. I've taught online classes about serious topics like Protest Songs, or Songs of Conscience, as well as musical styles and performers. I work to keep up with several online courses including the Art of the Song Pitch, Amplify, and now Fame Hackers.
What's your favorite success story or moment when you knew you had to pursue a career in music?
I love the process of recording my original songs. In mid-life I switched careers from Public Radio Volunteer Coordinator to Orchestra and Choir Teacher. Then when I was overlooked for advancing from beginning classes to middle school, I put my energy into producing my album Bow Drawn. My other two albums had been with a friend and we both provided original songs. This time I was the sole producer and organized twenty-four other musicians to play the different genres of my songs; Celtic, Dixieland, soft rock, etc. Even with twenty songs / tunes on the CD, the album is very cohesive. It's one of my proudest accomplishments.
What's the biggest challenge you've had to overcome to be where you are today?
I was raised not to self promote. That's very internalized in my family, and I've had to struggle to overcome that.
What Has Pushed You Into Joining The Fame Hacers Accellerator Program?
The online world of music marketing seems mysterious and technically difficult to me. What I appreciate most about the Fame Hackers is
1) a guarantee that I'll make my money back if I do the work
2) ongoing help with all aspects of marketing from the personable team. The company people that I've met are helpful, knowledgeable, and friendly. They inspire confidence.
What's the biggest goal You have set your mind to reach while in the Program?
I'd like to make another CD, and sell that AND my earlier CD's as well. I'd love to go on a promotional tour with the music.
---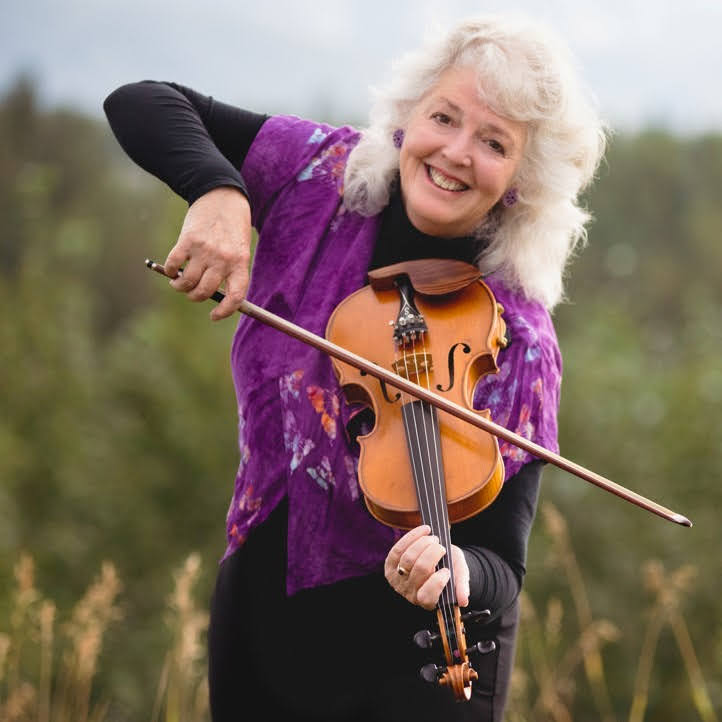 ---
How do you want to be recognized or remembered as?
I hope to be remembered as someone who views music as a spiritual lift. My approach to songs or tunes when I play in bands is to always support the music in the best way. It's not about calling attention to my part in it. I want to be known as the reliable, fun, talented musician who worked to bring out the best in others.
What are your top 3 favorite artists or musical influences and why?
Laurie Lewis, Darrell Scott, Wailin' Jennys. The first two are incredible, prolific, and deeply personal singer songwriters and the band Wailin' Jennys chooses wonderful songs and makes their weaving harmonies seem effortless. I have so many favorites that three doesn't begin to cover this.
What's one piece of advice you could tell the readers that could impact their lives?
You'll thrive as you help others thrive. Share your songs and music with your community. I love playing with other people in so many situations. When you hit an obstacle, there's usually a way to overcome it so be stubborn about getting to where you want to be!
What's the best advice for people who want to contact you or approach other artists/professionals in the industry
People can contact me through my website www.ShontiElder.com I appreciate it when folks actually know a little bit about me beforehand, so that I don't feel like I'm a random contact to further their career somehow. If someone is genuinely interested in working with me on a project, I'm open to learning more.
---
FOLLOW SHONTI ELDER ON INSTAGRAM
STREAM THE TRAVELING MUSIC RADIO PROGRAM ON SATURDAY NIGHTS AT MIDNIGHT EST
STAY TUNED FOR NEW MUSIC
---
Shonti Elder Is Attending Fame Hackers' Accellerator Program!
Welcome To The Fame Hackers Team!
You're Going To Reach Huge Milestones For Your Career!
---
LEARN MORE ON THE FAME HACKERS PROGRAMS FOR MUSICIANS AND CREATORS!